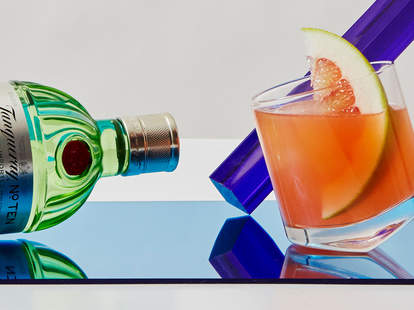 The Pomelo is South Asia's answer to the grapefruit. It's sweeter than grapefruit, though, so the bitter notes of the Italian aperitif balance it quite well. If you can't find pomelo, use grapefruit instead, and add a little sugar to the juice. This three-ingredient marvel should go right into your G & J repertoire.
Please drink responsibly.
TANQUERAY NO. TEN Gin. 100% Grain Neutral Spirits. 47.3% Alc/Vol. Imported by Charles Tanqueray & Co., Norwalk, CT.
INGREDIENTS
1.25 oz

Tanqueray No. TEN

.5 oz

Italian Bitter Aperitif

2 oz

Pomelo Juice
INSTRUCTIONS
Step one
Combine all ingredients in a shaker with ice.
Step two
Shake. Strain over rocks in an old-fashioned glass.
Contributed by Zach Lynch