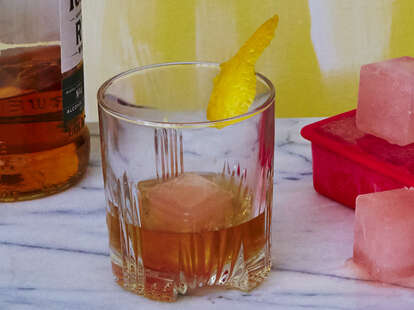 Matthew Kelly / Supercall
On a sweltering hot New Orleans day (or even a temperate Seattle evening), a simple Sazerac is a welcome refresher. These frozen cubes of water, simple syrup, absinthe and Peychaud's bitters close the gap between you and that glassful of whiskey satisfaction. Drop one cube into a glass, add a pour of rye whiskey (or Cognac if you want to invoke the cocktail's historical origins), and start drinking. Sip quickly if you want to feel that whiskey kick, or let the cube languish and melt if you prefer that silky, soothing, anise-tinged sweetness.
Sazerac Cocktail Cubes
INGREDIENTS
Water

Absinthe

Peychaud's Bitters

Whiskey

Lemon twist
INSTRUCTIONS
Step one
Fill slots of an ice cube tray (silicone king cube trays work best) a quarter full with simple syrup, then fill to three-quarters full with water and top with absinthe.
Step two
Dash 4 dashes of Peychaud's bitters into each slot.
Step four
To serve, place a cube in a lowball glass, top with 2 oz rye, and swirl.
Contributed by