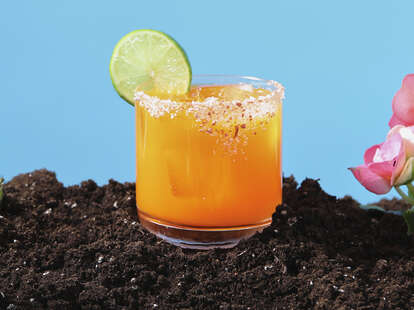 This spicy, savory take on a classic Margarita from New York-based Australian restaurant Flinders Lane is made with carrot juice, cardamom syrup and blanco tequila, infused with both long red chilies (for color and flavor) and Thai bird's eye chilies (for a hellfire heat)—plus a homemade carrot salt for an extra pop of color. "Carrots and cardamom work well together, and carrots have a natural sweetness that balances the chile-infused tequila and citrus," says Chris McPherson, beverage director and part owner at Flinders Lane. "Mezcal adds that touch of smokiness on the finish. It's been a customer favorite ever since we first opened." While the fresh, earthy flavors are perfect for spring, McPherson says swapping out the blanco tequila for a reposado allows the drink to transcend seasonality—good thing, because you'll want to drink it all year round.
Spiced Carrot Margarita
INGREDIENTS
1.5 oz chili-infused tequila
.5 oz

Ancho Reyes

.5 oz

Mezcal

1 oz

carrot juice

.5 oz

cardamom syrup

.5 oz

lime juice

Lime Wheel, for garnish
INSTRUCTIONS
Step one
If using, prepare carrot salt and rim a rocks glass, using lime juice as an adhesive. Alternatively, you can use smoked salt or celery salt.
Step two
Add all ingredients, save for the garnish, to a shaker filled with ice and shake.
Step three
Strain into the rimmed rocks glass, fill with fresh ice. Garnish with a lime wheel.
Contributed by Flinders Lane, NY, NY