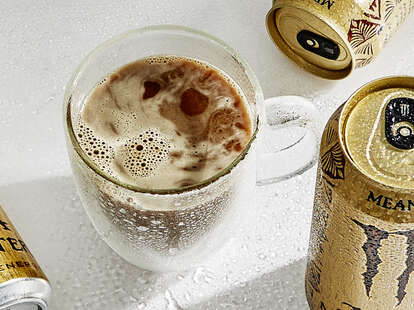 Matthew Kelly / Supercall
When the average drip coffee isn't enough to get your tired body out of bed in the morning, it's time to kick that cup into overdrive. "Java Monster is one of my favorite coffee-flavored energy drinks on the market," says Steph Russ, bartender and author of Energy: Cocktails to Get You UP. "It's creamy and sweet enough to be used in place of cream and sugar in your coffee, and it adds an additional stimulant boost to your usual breakfast blend." She mixes the java-flavored energy drink with black coffee, Kahlúa and vodka for an over-the-top brunchtail. If you really want to wake up on the right side of the bed, we suggest using our killer homemade coffee liqueur in place of Kahlúa.
Breakfast
INGREDIENTS
1.5 oz

vodka

1.5 oz

Kahlúa

12 oz

Coffee

8 oz

Java Monster Mean Bean
INSTRUCTIONS
Step one
Add all ingredients to a large coffee mug and stir.
Contributed by Steph Russ