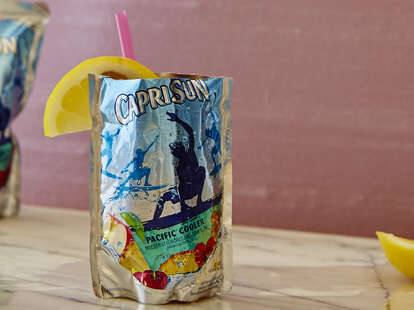 Matthew Kelly / Supercall
Spiking Capri Sun with white rum is a good start, taking the juice from playtime to happy hour. But we took things a bit further. Funky rhum agricole dries out the cloying sweetness (something we never noticed back in the day), while maraschino liqueur and a splash of lemon juice amplify the hodgepodge of tropical fruit flavors. It's the best way to revive the flavors of days past without actually having to relive elementary school.
INGREDIENTS
1 pouch

capri sun

1 oz

white rum

.75 oz

Rhum

.25 oz

Maraschino

.5 oz

Lemon Juice

Lemon wedge, for garnish
INSTRUCTIONS
Step one
Cut open the Capri Sun packet horizontally along the top seam. (Don't worry about leaving a jagged edge, as the drink is served with the attached straw.)
Step two
Pour out 2.5 ounces and discard (or take as a shot—you know you want to).
Step three
Combine remaining juice with the rest of the liquid ingredients in a shaker with ice, and shake.
Step four
Strain back into the open Capri Sun packet and serve with attached straw.
Contributed by Supercall