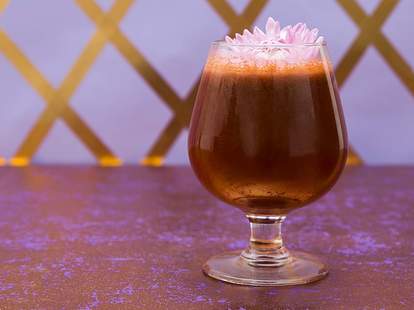 Marisa Chafetz / Supercall
If you're a fan of extreme (but balanced) bitterness, this twist on the classic Mai Tai is the drink for you. Instead of using only rum for the base of the drink, we split the ratio with a full measure of Angostura bitters. (That might sound a little intense, but we assure you that it is actually delicious.) To help tame the robust woodsiness of the bitters, we upped the amount of orgeat—which also makes the drink even creamier and more velvety—and added a super funky, high proof Jamaican rum to the mix (we like Smith & Cross). While this Mai Tai is the perfect aperitif to awaken your appetite, it also works well as a refreshing digestif at the end of a heavy meal, thanks to that heavy hit of curative bitters.
INGREDIENTS
1 oz

Angostura

1 oz

Jamaican Rum

1 oz

Lime

0.75 oz Orgeat
0.5 oz

Combier

Pansy
INSTRUCTIONS
Step one
Add the Angostura bitters, Jamaican rum, lime juice, orgeat and Combier to a shaker tin.
Step two
Add cubed ice, seal and shake.
Step three
Using a Hawthorne strainer, strain the cocktail into a wine glass, goblet, or stemmed snifter, and add fresh ice.
Step four
Garnish with an edible pansy.
Contributed by Dillon Mafit