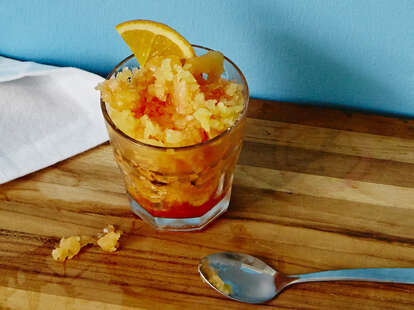 Matthew Kelly / Supercall
When it comes to day drinking, we're all about low-ABV tipples, and this refreshing Aperol-spiked granita from June's All Day in Austin, Texas, perfectly fits the bill. "I think of this as a fun adult slushie, ideal for a summer party or a pool-side refresher," bartender Aarial Ferguson-Henderson says. "Also, at 11 percent ABV, you won't get too tipsy." Orange juice and Aperol give this slurpable granita a double dose of sweet citrus flavor without making the drink cloying. "The bitterness from the Aperol balances the sweetness of the orange granita," she says. "To make it even less sweet, you can always add a couple dashes of bitters."
June's Julius
INGREDIENTS
3 cups

Orange juice

.5 Cup

Sugar

2 oz

Aperol

.5 oz

Lime Juice

Orange slice
INSTRUCTIONS
Step one
Add orange juice and sugar to a shaker or Mason jar. Shake until sugar is fully integrated.
Step two
Add the mixture to a sheet pan and place in the freezer. Scrape with a fork every 30-60 minutes over the course of 3-4 hours, or until frozen.
Step three
Fill a rocks glass three-quarters of the way full with the granita. Top with Aperol and lime juice and stir gently.
Step four
Float a thin slice of orange on top.
Contributed by Aarial Ferguson-Henderson