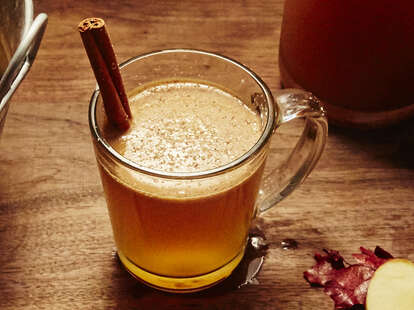 Matthew Kelly / Supercall
There's nothing quite as soul soothing as a piping hot mug of spiked apple cider. But Egg Shop chef Nick Korbee managed to make the fall favorite extra special with a smoked, maple-tinged bourbon, a touch of amaro and a homemade salted caramel sauce. "Fresh local apple cider is a true luxury of autumn in the Northeast," Korbee writes in Egg Shop: The Cookbook. "Sweet and crisp with a well rounded apple flavor, good cider is only better when served piping hot with a bit of quality bourbon and sea salt caramel sauce." Make a mugful anytime you need to melt away stress at the end of a long day.
Hot Pants!
INGREDIENTS
8 oz

apple cider

.75 oz

Lemon Juice

2 oz

Smoked Maple Bourbon

.25 oz

Amaro Nonino

.75 oz Caramel Sauce

Cinnamon and nutmeg
INSTRUCTIONS
Step one
Bring cider to a simmer in a small saucepan over low heat while you measure the lemon juice, bourbon and amaro into your mug.
Step two
Pour steaming cider into the mug and drizzle in caramel sauce.
Step three
Stir with cinnamon stick and finish with a little fresh grated nutmeg.
Contributed by Nick Korbee