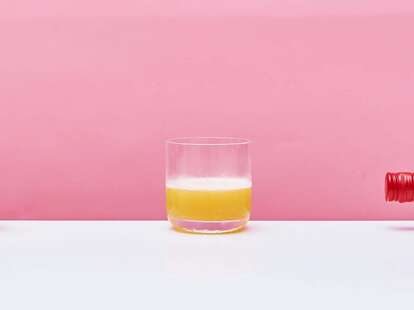 Marisa Chafetz / Supercall
If you've never tried incorporating fruit into your Whiskey Sour, you may believe that the basic lowball is the brightest, most exuberant way to consume the dark brown spirit. While many stirred whiskey drinks go for deep, spiced flavors, the Whiskey Sour is unabashadley bubbly in personality. But upping the fruit makes an even more cheerful cocktail—just look at the Apricot Stone Sour for proof.
The Apricot Stone Sour incorporates apricot into the cocktail in the form of apricot brandy, which is a bit of a misnomer. While true apricot eau de vies do exist—full-proof spirits distilled from apricots that are popular in Europe—they're a bit hard to come by in the states. What you'll probably find at your local liquor store is apricot liqueur. While the liqueur is sometimes labeled as apricot brandy, it's sweeter and lower proof than true brandy. This isn't necessarily a problem for an Apricot Stone Sour, as long as you buy the highest quality apricot liqueur possible. A small pour of apricot liqueur goes a long way in the Apricot Stone Sour, especially when building on a bourbon base. That apricot flavor is balanced with an equal measure of lemon juice to remind you that you're drinking a true Sour, while a dash of orange juice helps mellow the tartness. The result is juicier than your typical Sour with a more velvety texture, achieved without the use of egg white for which some Whiskey Sour recipes call.
Apricot Stone Sour
INGREDIENTS
1.25 oz

bourbon

.75 oz

apricot liqueur

.75 oz

lemon juice

.25 oz

orange juice
INSTRUCTIONS
Step one
Add all ingredients to a shaker tin with ice and shake.
Contributed by Supercall