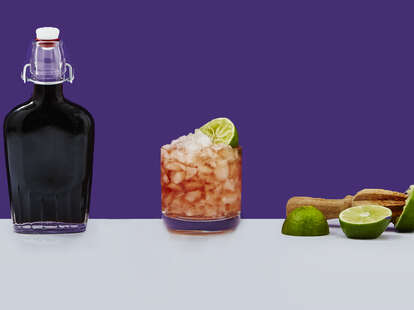 MATTHEW KELLY / SUPERCALL
The exact history of this classic cocktail is murky—kind of like the blackstrap rum used to make it—but we do know that it originated somewhere in Barbados. The inspiration for the distinctly non-tropical name comes from its contrasting colors—the bright, pale mix of falernum and lime juice, and the dark, oil-like blackstrap rum. It's similar to a Dark and Stormy, but tropical falernum takes the place of spicy ginger for a smooth, refreshing cocktail that'll transport you to an island far, far away.
Corn 'N' Oil
INGREDIENTS
2 oz

blackstrap rum

.5 oz falernum
.5 oz

lime juice

3 dashes

Angostura bitters

Lime wedge, for garnish
INSTRUCTIONS
Step one
Add all ingredients save for the garnish to a rocks glass.
Step two
Fill the glass with crushed iced and stir until the glass is frosty.
Step three
Garnish with a lime wedge.
Contributed by Supercall