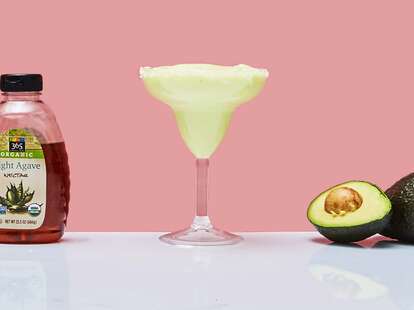 Marisa Chafetz / Supercall
Marisa Chafetz / Supercall
No, this Avocado Margarita doesn't taste like guacamole—but it would go perfectly with a heaping bowl of the Mexican dip. Almost creamy on the palate, it's like a semi-savory Piña Colada made with tequila instead of rum. And, like its Puerto Rican cousin, this Margarita variation is blended with crushed ice to achieve a smooth, whipped consistency. Made with vanilla-forward reposado tequila (in place of a Margarita's usual blanco tequila), it's luxurious, sweet and tangy. The next time you're tempted to make yourself boring avocado toast for Sunday brunch, mix this cocktail up instead. We swear it's just as delicious and healthy-ish.
We recommend using a reposado tequila like Tapatio, which has notes of cinnamon and buttered toast, or Calle 23, which is salty, creamy and peppery. If you want the cocktail to be extra savory, garnish the drink with Tajín Clásico seasoning, a Mexican salt infused with chile and dehydrated lime, which will bring out the more vegetal flavors in the avocado fruit and give the drink a touch of heat.
Note: the ingredients below make enough for two cocktails.
Avocado Margarita
INGREDIENTS
4 oz

Reposado Tequila

2 oz

Lime Juice

1 oz Agave Syrup
1 half

Avocado

1 Cup

Crushed Ice

Salt
INSTRUCTIONS
Step two
Combine all other ingredients in a blender.
Step three
Blend until smooth and divide between two glassed.
Contributed by Supercall