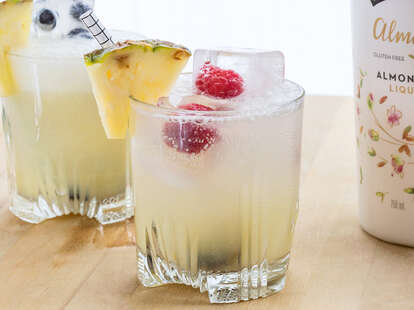 Jolie Greenstone/Supercall
You wouldn't necessarily expect an almond milk liqueur to play well alongside tropical flavors like pineapple, but this cocktail, chilled by ice-encased fresh blueberries and raspberries, proves otherwise. It's a fizzy, well-balanced summer sipper.
Baileys Almande Pineapple Fizz, Drink Recipe
INGREDIENTS
2-3

Berry Ice Cubes

2 cups

Seltzer Water

3 oz

Baileys Almande

2 oz

Pineapple Juice

2

Pineapple Slices, For Garnish
INSTRUCTIONS
Step one
Pour one cup of seltzer water into two 16-oz glasses. Stir 1 1/2 oz of Baileys Almande and 1 oz of pineapple juice into each glass.
Step two
Add the fruity ice cubes to the glasses, filling them to the top. Garnish with pineapple slices and enjoy with a straw.
Contributed by Ilene Godofsky Moreno