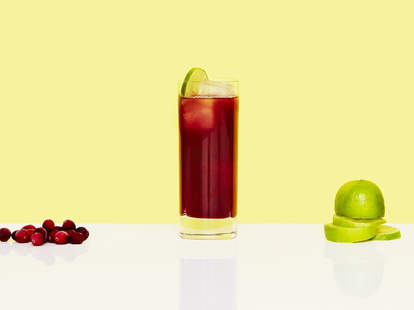 The Bay Breeze came into existence thanks to a marketing campaign by Ocean Spray and the Cranberry Growers Association. They were looking for a way to sell more cranberry juice in the late 1940s, and turned to cocktails to push their product. Hence, a family of cocktails under the "Breeze" name were born. There's the Sea Breeze (grapefruit juice, cranberry juice and vodka), the Cape Codder (cranberry juice, lime juice and vodka) and, of course, the Bay Breeze, which is made with cranberry juice, pineapple juice and vodka. After all of the Cranberry Growers Association's shaking and stirring, the marketing campaign was ultimately a flop. Soon after the cran-everything push, the Health Department declared cranberry crops were contaminated with toxic herbicides and therefore unsafe for consumption.
Cranberry juice as a mixer was not to be forgotten, though. The cocktails got a revamp in the 1960s, and by the 1970s the Bay Breeze became a popular vodka cocktail. It's just what you've been looking for if you're tired of your ho-hum vodka-cranberry Cape Codder. The extra spike of pineapple juice makes the drink extra fruity with a tropical tinge. If you want to mix it up even more, you can swap the vodka for rum. Coconut rum also puts a delicious twist on the drink. But for the basic, tried-and-true classic, simply use cranberry juice, pineapple juice and vodka. The neutral spirit lets the natural fruit flavors (quality juice is key here) of the Bay Breeze stand out. With good juice and good vodka, and you're sure to fall in love with this 1950s classic.
INGREDIENTS
1.5 oz

vodka

3 oz

cranberry juice

1.5 oz

pineapple juice

Lime wheel
INSTRUCTIONS
Step one
Pour vodka, pineapple juice and cranberry juice into a highball glass and add ice.
Step three
Garnish with a lime wheel.
Contributed by Supercall