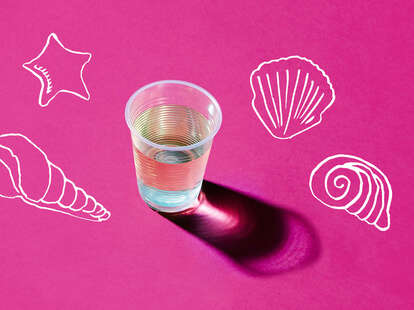 If stirred gin drinks speak to you more than fruity rum punches, try this gallon-sized take on a White Negroni. But watch yourself: Two full bottles of gin means a wallop is in store for anyone who dares fill his or her cup to the brim. Those who want to lighten it up can top the cocktail off with soda water and a refreshing cucumber slice.
Tip: To make sure there's enough cucumber aroma in each cocktail, take the bitters to the beach and top each drink with a few dashes before serving.
Beach Blanket Bicchierino
INGREDIENTS
2 750-ml bottles

London dry gin

1 750-mL bottle

Salers Aperitif

1 750-mL bottle

dry vermouth

375 ml

water

soda water

bitters

slice

cucumber
INSTRUCTIONS
Step one
Add the gin, vermouth and Salers to a gallon-sized container.
Step two
Mix with a large spoon and store in the freezer prior to serving or bringing to a party.
Step three
Pour into glasses and serve, or, for a lighter cocktail, top with soda water and a slice of fresh cucumber.
Contributed by Supercall