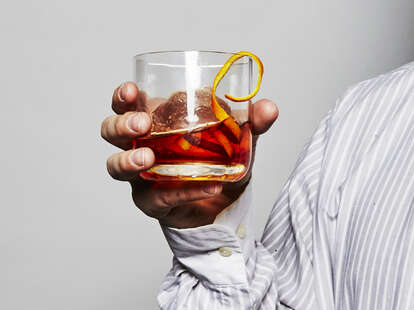 Despite the drink's name, you don't have to wait for Old Man Winter to strike before you make this twist on the classic Old Fashioned—in fact, its cooling powers can be channelled even during the dog days of summer. To create the Snowball Old Fashioned for the seasonal pop-up Miracle on Ninth Street, mixology master Nico de Soto, blends the typical ingredients—bourbon, demerara syrup and Angostura bitters—with a touch of herbal digestif Becherovka. Not only does the liqueur add a layer of depth to the cocktail, but the drink is also super simple to make. All it requires is a steady hand and, of course, an ice sphere to make it look like, well, you know.
Snowball Old Fashioned
INGREDIENTS
1.5 oz

bourbon

.5 oz

becherovka

.25 oz demerara syrup
2 dashes

Angostura Bitters

Orange spiral, for garnish
INSTRUCTIONS
Step one
Add all ingredients to a rocks glass.
Step two
Add ice sphere and stir until fully combined and chilled.
Contributed by Samuel Gauthier