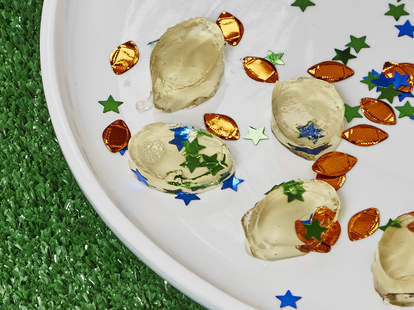 If you're watching the big game for the halftime show and commercials—or if you're just in it for the snacks and drinks—you might be more inclined to go for this unaffiliated shot. It melds a pale ale with lemonade for a wonderfully jiggly take on the classic Shandy. The resulting shot is a hoppy, citrusy amalgam that will pair nicely with everything from guacamole to a loaded baked potato. Cut these shots into football shapes for a presentation worthy of excessive celebration.
INGREDIENTS
.75 Cup

pale ale

1 packet

unflavored gelatin

.5 Cup

boiling water

1.5 tbsp

lemon juice

2.5 tbsp

sugar
INSTRUCTIONS
Step one
In a large bowl, sprinkle gelatin over beer and let sit for one minute.
Step two
Add the boiling water, lemon and sugar. Stir until gelatin and sugar are fully dissolved.
Step three
Refrigerate until solid, about two and a half hours.
Contributed by Supercall