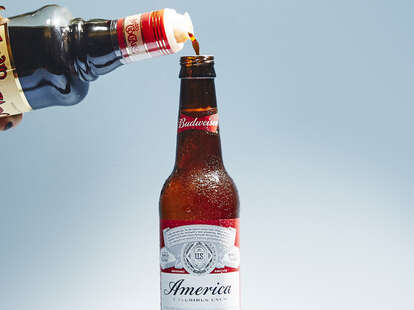 Matthew Kelly / Supercall
Inspired by the French cocktail, the Picon Bière (beer mixed with Amer Picon), this easy, two-ingredient cocktail from Ops in Brooklyn is the greatest use of a Budweiser that we've ever seen. In place of the traditional Amer Picon, which is nearly impossible to find stateside, the bartenders at Ops use CioCiaro Amaro because its bitter orange notes and viscosity are similar to Amer Picon. "It's a good way to introduce amaros to Budweiser drinkers," says Ops co-owner Marie Tribouilloy. It would also work vice versa, should you want to get your snooty amaro-drinking friends in on the simple joys of a just-cracked Bud.
Budweiser Amaro
INSTRUCTIONS
Step one
Take a swig from the Bud.
Step two
Top with the amaro.
Contributed by Ops