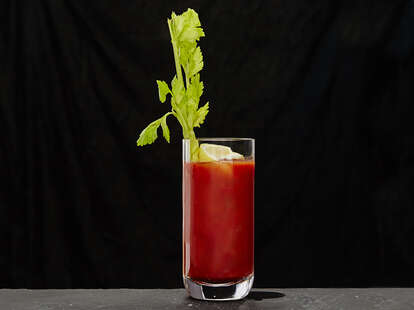 Matthew Kelly / Supercall
Adapted from The Bloody Mary by Brian Bartels, this powerful Bloody Mary from bartender Leo Robitschek of New York's NoMad starts with tomato but then goes deep, adding in earthy beet juice, salty, umami-boosting Maggi sauce, and a hot splash of Tabasco. And then there's the pro move: Instead of vodka—because, not to sound like your mom, but should you really be drinking two shots of vodka with your brunch?—he uses nutty, brothy amontillado sherry, which lowers the drink's overall proof, giving you just enough booze to stave off hangover (for a little while, at least) but not enough to put you right back down for a nap. This recipe makes enough mix for 10 drinks, and can be made ahead and refrigerated for up to one week.
Beet and Sherry Bloody Mary
INGREDIENTS
44 oz

Tomato Juice

8 oz

beet juice

4 oz

Worcestershire Sauce

2 oz

Tabasco Sauce

1 oz

Maggi

1 tsp

salt

2 tsp

freshly ground black pepper

20 oz

Amontillado Sherry

Lemon wedges

Celery stalks
INSTRUCTIONS
Step one
To make the mix, combine all of the ingredients (save for the sherry) in a large pitcher, or store in a sealed container and refrigerate up to 1 week.
Step two
For each drink, combine 2 ounces of sherry and 6 ounces of mix in a cocktail shaker filled with ice. Roll the ingredients back and forth with another shaker three times, and strain into a highball glass filled with ice.
Step three
Garnish with a lemon wedge and celery stalk.
Contributed by Leo Robitschek