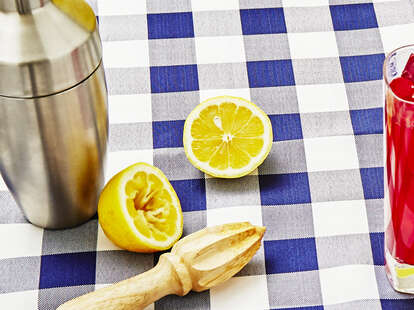 Matthew Kelly / Supercall
If you ever watched Doug, then you know: Beets are "nature's candy." We couldn't agree more with the vested, wispy-haired cartoon character. Sweet, savory and earthy, with the ability to dye anything that they touch bright pink, beets are pretty darn magical. And as Ardi Dulaku—head bartender at SaltRock Southwest Kitchen in Sedona, AZ—shows, they're pretty great in a cocktail, too. He created this lip-smacking libation, which mixes vibrant beet juice into a gorgeous, flavor-packed take on a Gin & Tonic. "Beets are great because they're so versatile in flavor—sweet, earthy and jammy," Dulaku says. "Their sweetness pairs well with the bitterness of grapefruit and the botanicals in the Aviation Gin, such as juniper, lavender and cardamom." Dulaku adds a touch of lemon juice for acidity and brightness and finishes the whole thing with Fever Tree Tonic to make a refreshing, spritzy delight.
Heart Beet
INSTRUCTIONS
Step one
Add beet syrup, lemon juice, gin and grapefruit cordial to a mixing tin with ice.
Step two
Shake vigorously and strain into a Collins glass over ice.
Step three
Top with tonic and garnish with cubed beets.
Contributed by Ardi Dulaku