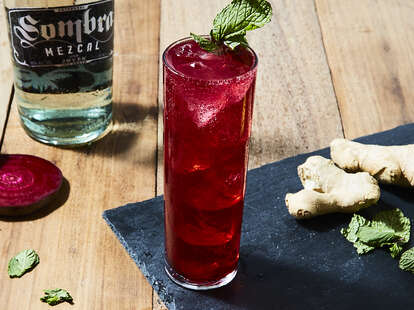 Marisa Chafetz / Supercall
Not only is beet juice unbelievably healthy, but its sweet-savory flavor makes it an ideal base for cocktails. At newly reopened NYC bar Ward III, head bartender Sarah Akromas spikes the deep purple juice with mezcal, Pimms, and tangy fresh ginger and lemon juices for a libation that's unbelievably refreshing. "I chose mezcal for its tropical and salty notes, which makes this drink perfect for any season," she says. The drink is topped with ginger beer for extra sweetness and spice. Serve it during cocktail hour at a dinner party or anytime you need a quick pick-me-up.
Just Beet It
INGREDIENTS
1 oz

Mezcal

1 oz

Pimm's

1 oz

Beet juice

.25 oz

Ginger juice

.25 oz

Lemon juice

.25 oz Simple syrup
1

Mint leaf

.5 oz Ginger beer

Mint
INSTRUCTIONS
Step one
Add all ingredients, save for the ginger beer and garnish, to a cocktail shaker with ice.
Step two
Shake and double strain into a Collins glass.
Step three
Top with ginger beer and garnish with a mint sprig.
Contributed by Sarah Akromas