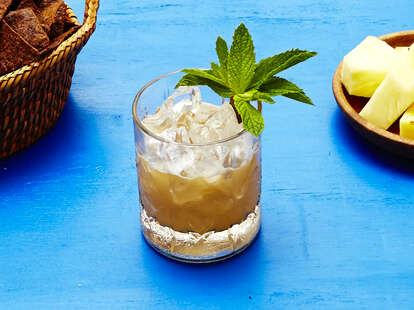 Matthew Kelly / Supercall
Created by mezcal company Gem & Bolt, this bright, fruity take on spiked horchata calls for their subtly smoky spirit, which is uniquely distilled with damiana, an ancient Mexican herb often used as an aphrodisiac and a holistic anti-depressant. China-China, a bitter, citrusy amaro made with cinchona bark, plays up the herbal notes in the mezcal, while muddled pineapple gives the drink a tropical edge. It's perfect sipped on a sweltering day spent on a blazing beach or just in your backyard.
Mezcal Mama Horchata
INGREDIENTS
1.5 oz

Gem & Bolt

1.5 oz Almond Horchata
0.5 oz

lime juice

0.5 oz Demerara Syrup
3 1-inch pieces

Fresh Pineapple

0.5 oz

China-China Amer

2 to 4 drops

Pink salt solution (2 parts water to 1 part salt)

Bouquet of mint, for garnish
INSTRUCTIONS
Step one
In a pint glass, muddle the fresh pineapple.
Step two
Add the rest of the ingredients (save for the mint) to the glass along with a small amount of crushed ice.
Step three
Top the pint glass with a shaker tin (to make a Boston shaker) and whip shake.
Step five
Top with crushed ice and garnish with a bouquet of fresh mint.
Contributed by Gem & Bolt