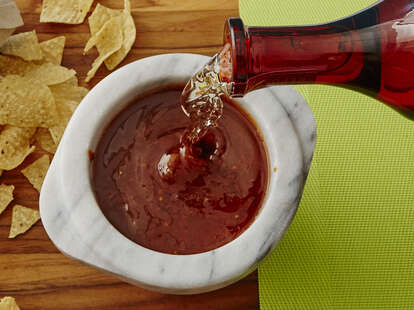 Matthew Kelly / Supercall
Matthew Kelly / Supercall
Tequila is delicious with salsa. But, as it turns out, it's also great in salsa. This tangy recipe from Richard Ampudia, a Mexico City-born chef who's opened beloved stateside hot spots like La Esquina, Cafe Habana and Lolo's Surf Cantina, is spicy, savory and just the right amount of boozy. "The sour flavor of the tomatillo and fruity flavor of cascabel chilies emulate the experience of ordering tequila in Mexico where it's served with Sangrita and lime," Ampudia says. "I chose reposado tequila because the woody notes complement dry chilies." Drizzle this spiked salsa over tacos, brush it onto grilled fish and chicken, or serve it alongside tortilla chips at your next fiesta. For a serious tequila-soaked snack, pair this salsa with our spiked homemade guacamole—and plenty of Margaritas, of course.
The Best Tequila-Spiked Salsa
INGREDIENTS
2 oz

Tequila

4

Tomatillo

1

roma tomato

3

Chilies

2

chilies

white onion

1 clove

garlic

2 oz

olive oil

2 tsp

Salt
INSTRUCTIONS
Step one
In medium pot, add 2 cups of water and bring to a boil. Add cascabel and arbol chilies to the pot and boil for 5-7 minutes or until soft. With a slotted spoon, remove chilies from the pot and reserve a half cup of the cooking water. Remove stems from chilies and add to a blender, making sure to add the seeds.
Step two
Cut a quarter of an onion into thick slices and place in a cast iron pan along with the garlic clove, tomatoes and tomatillos. Roast ingredients over a medium flame. Once garlic and onion have a nice char, remove from the pan and place in the blender along with the chilies. Continue to roast the tomatoes and tomatillos until they are charred evenly on all sides, then add to the blender.
Step three
Add the reserved cooking water to the blender and pulse all the ingredients 3 or 4 times for 10-15 seconds until you have a nice salsa texture. If you like your salsa very smooth, pulse for longer.
Step four
Place a 2-quart pot on the stove. Add olive oil and heat until the oil is smoking. Add the salsa mixture from the blender and cook over medium heat until it starts bubbling. Add the tequila and cook for an additional 3 minutes. Turn the heat off and add the salt. Pour the salsa into a bowl or container, and allow it to cool in the refrigerator.
Step five
As the salsa cools, finely dice the remaining quarter of an onion. Then add it to the salsa and mix. Adjust the salt if necessary. This salsa is best made 3 hours before it's consumed and should keep for 3 days in the refrigerator.
Contributed by Richard Ampudia