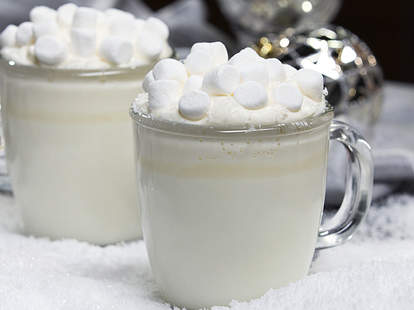 This whiteout cocoa is the perfect drink for a snow day. Swapping dark chocolate for white creates a milky spin on the classic hot cocoa, while all-white garnishes of homemade whipped cream and marshmallows add a pop of colorless fun. Spiked with white rum and a bit of vanilla, it's easy to get lost in the flavor of this whiteout.
INGREDIENTS
1 oz

white rum

6 oz

milk

2 oz

white chocolate

.3 tsp

vanilla

1 pinch

salt

marshmallows, for garnish
INSTRUCTIONS
Step one
Combine milk, vanilla, salt and white chocolate chips in a large pot and place over medium heat. Stir occasionally until chocolate chips begin to melt, then reduce heat to medium-low.
Step two
Cook, stirring occasionally until mixture is very hot and chips are melted.
Step three
Add rum to a mug and top with hot white cocoa.
Step four
Garnish with whipped cream and marshmallows.
Contributed by Supercall