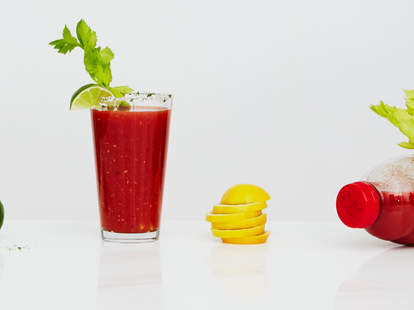 Matthew Kelly / Supercall
The Bloody Mary is the Pizza Hut salad bar of the cocktail world: It's easy to go overboard with toppings and mix-ins. What starts as a perfectly balanced brunch drink can quickly transform into a Frankenstein's monster of a cocktail. "If you get too crazy with your garnishes, it interferes with sipping [and enjoying] the cocktail," says Brian Bartels, the author of The Bloody Mary. While we respect your right to top your Bloody Mary with anything from a speared olive to an entire roast chicken, we advocate at least starting with the classic: a blend of vodka, tomato juice, citrus, celery salt, Tabasco, Worcestershire sauce and horseradish, garnished with a crunchy celery stick. After you have mastered this classic formula, go ahead and experiment with the myriad of alternative ingredients in your Bloody—like Sherry, fish sauce and watermelon—or a bevy of insane garnishes.
INGREDIENTS
2 oz

Vodka

.75 oz

Lemon Juice

Tomato Juice

1 tbsp

Horseradish

1 tsp

Celery Salt

4 dashes

Tabasco Sauce

4 hefty dashes

Worcestershire Sauce

1

Celery Stalk
INSTRUCTIONS
Step one
Add all ingredients except for the tomato juice and celery into a pint glass.
Step two
Fill the glass with ice and top with tomato juice.
Step three
Stir until the drink is mixed well and garnish with a celery stalk.
Contributed by Supercall