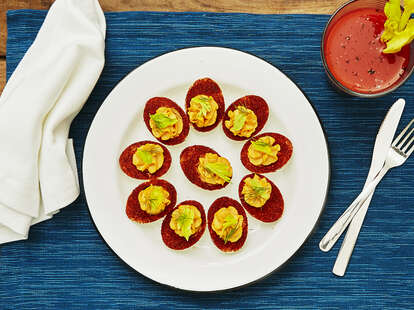 Matthew Kelly/Supercall
Matthew Kelly/Supercall
There's not much in-between when it comes to deviled eggs: You either love them or you hate them. And the same can be said of the Bloody Mary, one of the most reviled and beloved brunch drinks of all time. Both of them are contentious because they have deeply savory flavors that are not for the faint of palate. But for fans of the umami-packed snacks, combining the two creates complete flavor magic.
Just like a glass of plain tomato juice, deviled eggs benefit from the addition of spices and seasonings like celery salt, Worcestershire sauce, cayenne and vinegar. And because some of the greatest Bloodies are beyond flashy, these deviled eggs get some panache thanks to a paprika "rim," dill sprig and celery slice for authenticity. If you can manage to successfully peel a half dozen hard-boiled eggs, you'll have no trouble with this simple, crowd-pleasing recipe.
Bloody Mary Deviled Eggs
INGREDIENTS
6

hardboiled eggs

1 tsp

hot paprika

1/3 Cup

mayonnaise

2 tsp

tomato paste

2 to 3 dashes

Worcestershire sauce

.5 tsp

white vinegar

2 tsp

horseradish

1 tsp

lemon juice

.5 tsp

cayenne

.5 tsp

celery salt

Pepper

Hot paprika, for garnish

Slice of celery and dill sprig
INSTRUCTIONS
Step one
Slice the peeled hardboiled eggs in half lengthwise. Remove the yolks and place them in a medium bowl. Set aside.
Step two
Sprinkle enough hot paprika on a small plate to cover. Dip the cut edge of each hardboiled egg in the paprika and place on a serving platter.
Step three
Using a fork, mash the yolks into a fine crumble.
Step four
Add all remaining ingredients and mix well.
Step five
Spoon the yolk mixture into the egg whites, evenly dispersing it throughout the 12 pieces.
Step six
Garnish each egg with a slice of celery and a dill sprig.
Contributed by Anna Archibald
Mix It Up!
Depending on what kind of spirit you like in your Bloody Mary, you can vary the herbal garnish to pair even better: dill (gin), cilantro (tequila), parsley or chives (vodka).