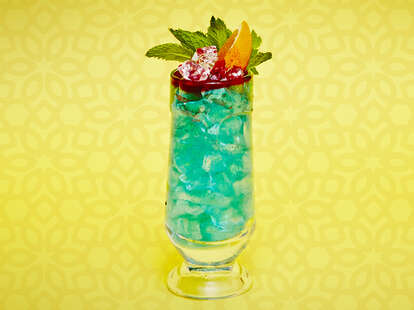 Matthew Kelly / Supercall
This Aegean-inspired tiki-style drink is just what Johnny Livanos, owner of the Greek restaurant Ousia in New York, would want to drink by the pool in Santorini. Livanos offsets the visual shock of Curaçao's unnatural blue color by garnishing the cocktail with naturally vibrant ingredients like fresh green mint, an orange wedge and red Peychaud's bitters. It might look like a snow cone, but the cocktail is far more balanced than its appearance lets on. "Pisco is a super aromatic spirit that smells like flowers and fresh fruit, while high-proof Jamaican rum balances out some of the sweeter ingredients," says Livanos. The cocktail also gets an herbaceous boost from mastiha, a Greek liqueur made with the sap of its namesake tree, which only grows on the island of Chios. "It's a very terroir-driven product, and it brings these piney, herbal, vegetal flavors to the drink, as well as a waxy texture and a natural sweetness." You've never had a blue cocktail like this before.
INGREDIENTS
1 oz

Pisco

1 oz

Jamaican Rum

.5 oz

Mastiha

.5 oz

Blue Curaçao

.75 oz Coconut Water Simple Syrup
.75 oz

Lime Juice

7 dashes

Peychaud's Bitters

Mint sprigs

Orange Wedge
INSTRUCTIONS
Step one
Fill a tiki mug three-quarters full with crushed ice.
Step two
Add all ingredients except for the garnishes to a shaker. Add ice and shake.
Step three
Strain into the tiki mug over the crushed ice.
Step four
Top off with more crushed ice until the glass is almost overflowing.
Step five
Garnish with a bushel of mint, an orange wedge and Peychaud's bitters dashed on top of the crushed ice.
Contributed by Johnny Livanos