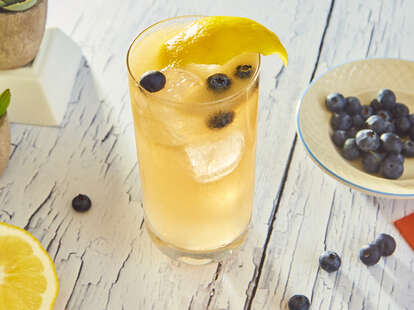 Marisa Chafetz / Supercall
Marisa Chafetz / Supercall
When Cat DiPaci opened her store Beer Fridge on New York's Lower East Side, she decided it was going to be more than your run-of-the-mill beer retailer. Not only does the craft beer boutique have a rotating selection of both new varieties and old favorites, but Beer Fridge also has a growler station where you can fill up on the latest from NYC breweries. There's lot of cider too, and DiPaci likes to experiment with the ever-growing selection in cocktails—like this fruity take on a summery Vodka Lemonade. "I wanted to create a fresh and fruity cider cocktail to welcome spring—aka, the start of warm weather drinking!" she says. "I chose a blueberry base for natural sweetness and topped it off using Nine Pin's Signature Cider, a sparkling dry cider that freshens up and really rounds out the drink." While we love Nine Pin cider, if you can't find it in your local beer shop or grocery store, any dry, sparkling cider will do in a pinch.
Blueberry Cider Cocktail
INGREDIENTS
.5 Cup

blueberries

.5 oz

lemon juice

.5 oz simple syrup
1.5 oz

vodka

1 can

Nine Pin Cider

lemon twist
INSTRUCTIONS
Step one
Muddle blueberries, lemon juice and simple syrup in a shaker tin.
Step two
Add vodka and ice, and shake.
Step three
Strain over fresh ice into a highball glass.
Step four
Top with Nine Pin Signature Cider and garnish with a lemon twist.
Contributed by Cat DiPaci