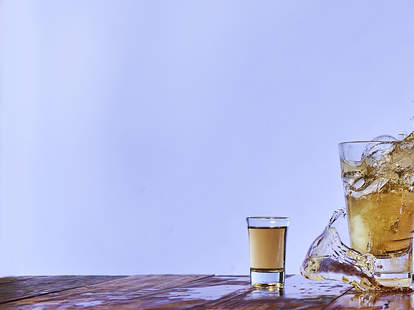 Marisa Chafetz / Supercall
If a classic Presbyterian cocktail and a Jäger Bomb had a baby, it would be this exceptional shot. Creamier than your average drop shot, scotch and white crème de cacao mix with smooth ginger ale to create a sweet, playful sipper. You can gulp this one down like any Bomb, but after one taste, your sense of decorum may kick in and tempt you to sip it slowly (don't listen to it). Heck, it's so refined, you could almost order it at a classy cocktail bar. Just ignore everyone's stares when you yell "bombs away!" as you drop the shot.
INGREDIENTS
.75 oz

Scotch

.75 oz

Crème de Cacao

1 can

Ginger Ale
INSTRUCTIONS
Step one
Combine scotch and white crème de cacao in a shot glass.
Step two
Pour ginger ale into a pint glass.
Step three
Drop shot into pint glass, and drink.
Contributed by Supercall