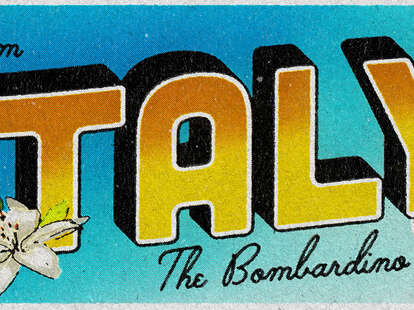 Mark Yocca / Matthew Kelly / Supercall
According to legend, this Italian winter treat was created at an Alpine ski resort for a group of snow-blasted skiers looking for shelter from a blizzard. In its original form the drink was a simple mix of brandy, zabaglione (an Italian egg-based custard) and milk, warmed on a stove. After trying it, one of skiers cried, "Accidenti! È una bomba!" Or "Damn! It's a bomb!" And so, the Bombardino came to be. We serve ours chilled and make it with Advocaat (a Dutch egg-enriched Brandy-based liqueur which can be bought or made from scratch) and Genepi for an extra herbaceous Alpine kick. After one sip you'll realize that it really is the bomb.
Bombardino
INGREDIENTS
2 oz Advocaat
2 oz

Brandy

.5 oz

Genepi

Ground Espresso, for garnish
INSTRUCTIONS
Step one
Pour the Advocaat, brandy and Genepi into a glass coffee mug.
Step two
Stir and garnish with fresh whipped cream and a sprinkling of ground espresso powder.
Contributed by Supercall