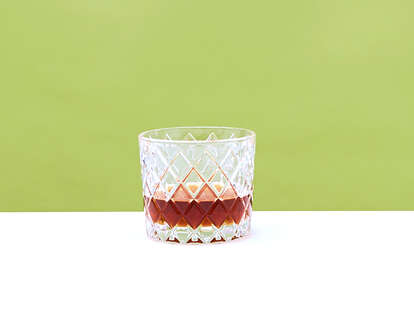 Marisa Chafetz / Supercall
Marisa Chafetz / Supercall
While many bartenders (and Old Fashioned drinkers) argue that an Old Fashioned should always be made with rye whiskey, this variation uses a measure of sweet and sassy bourbon as its base. A combination of Angostura bitters and orange bitters gives the drink a hit of aromatic baking spice and bright fruitiness, while the oaky, vanilla heavy flavors of bourbon round the drink out and give it depth. This cocktail is so delightful that it can be sipped any time of year.
Bourbon Old Fashioned
INGREDIENTS
2 oz

Bourbon

2

Sugar Cubes

2 dashes

Bitters

1 dashes

Angostura Bitters

Orange Peel
INSTRUCTIONS
Step one
Add the sugar cube to a lowball glass and soak it with both bitters.
Step two
Muddle until the sugar cube is dissolved.
Step three
Add the bourbon to the glass with a large ice cube and stir to dissolve the sugar.
Step four
Squeeze the oils of a large swath of orange peel over the cocktail and rub it over the lip of the glass before discarding.
Contributed by Supercall