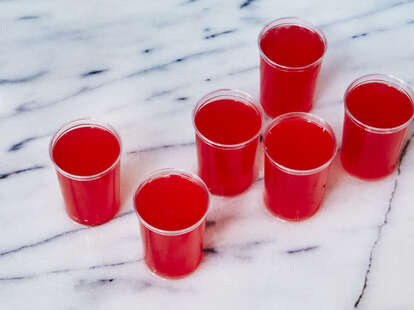 Lovers of all things pink-drink need these rosy-hued Jello Shots in their life. Made with Franzia's White Zinfandel or, the all-time fan favorite, Sunset Blush (or, really, any other boxed or fairly cheap rosé), it gets an extra hit of flavor from strawberry syrup and tart lime juice. The end result tastes like a jiggly, sweet and sour Strawberry Daiquiri, perfect for a warm summer day—or a rainy one that could use a little edible sunshine. While you could use a store bought strawberry syrup, we recommend making it yourself with fresh strawberries.
Boxed Pink Wine Jello Shots
INGREDIENTS
.5 Cup

Franzia Pink Wine

2 oz

lime juice

1 oz Strawberry syrup
1 packet

gelatin

1 Cup

Boiling Water
INSTRUCTIONS
Step one
Stir strawberry syrup, lime and wine together in a bowl, and chill in fridge.
Step two
Pour gelatin into a different bowl and top with boiling water. Stir until the gelatin is completely dissolved, then stir in the chilled wine mixture.
Step three
Divide into plastic shot glasses and set for at least 2 hours in the fridge until firm.
Contributed by Supercall