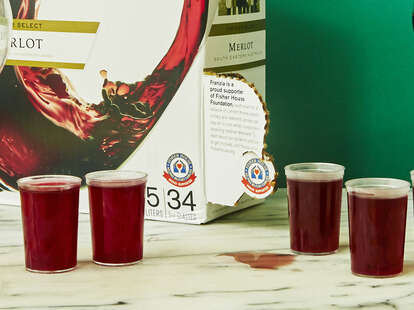 Red wine inspires such an intense devotion amongst its fans that doing anything other than drinking it straight from the bottle can seem sacrilegious. Thankfully, there's not even a bottle to drink from when it comes to Franzia, and it doesn't get more affordable than the dirt cheap box-o-wine. You can feel guilt-free about transforming a box of Merlot or Chillable Red into a platter of Jello Shots, enhanced with some simple syrup and fresh lemon juice. These are exactly what your next party needs or, more likely, your next boxed wine and "night cheese" sesh on the couch.
Boxed Red Wine Jello Shots
INGREDIENTS
.5 Cup

Franzia Red Wine

2 oz

Lemon Juice

1 oz Simple Syrup
1 packet

gelatin

1 Cup

Boiling Water
INSTRUCTIONS
Step one
In a bowl, mix lemon juice, simple syrup and red wine together, and chill in fridge.
Step two
Pour gelatin into a different bowl and top with boiling water. Stir until the gelatin is completely dissolved, then stir in the chilled wine mixture.
Step three
Divide into plastic shot glasses and set for at least 2 hours in the fridge until firm.
Contributed by Supercall