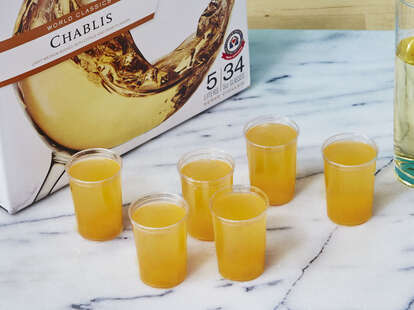 White wine is often the forgotten middle child, brushed aside in favor of its more robust, mature brother, red wine, and its vibrant, youthful little sister, rosé, but the blanco vino is actually the perfect canvas for a citrusy and sweet Jello Shot. Inspired by the Bellini, this Jello Shot combines white boxed wine—like Franzia's Crisp White or Chablis—fresh lemon juice and peach nectar, for a juicy sunburst of a Jello Shot that would be a smash hit at your next boozy brunch.
Boxed White Wine Jello Shots
INGREDIENTS
.5 Cup

Franzia White Wine

2 oz

peach nectar

1 oz

Lemon Juice

1 packet

gelatin

1 Cup

Boiling Water
INSTRUCTIONS
Step one
In a bowl, mix the white wine, lemon juice and peach nectar together, and chill in fridge.
Step two
Add the gelatin to a different bowl and top with boiling water. Stir until the gelatin is completely dissolved, then stir in the chilled wine mixture.
Step three
Divide into plastic shot glasses and set for at least 2 hours in the fridge until firm.
Contributed by Supercall