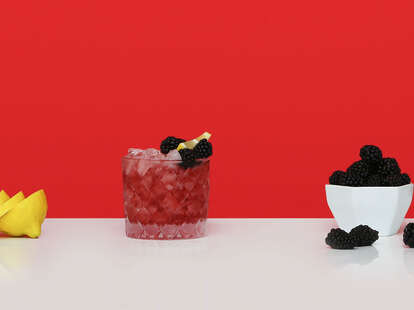 Against all odds, the very drinkable Bramble was invented during the cocktail deadzone known as the 1980s. Cocktail revolutionary Dick Bradsell concocted the drink at Fred's Bar in London. Based on a Gin Fix (essentially a Whiskey Sour made with gin), the Bramble is set apart by a float of crème de mûre (blackberry liqueur). The drink is at its best at the end of summer, when blackberries and other wild "bramble" fruits are in season. Crushed ice is integral not only to the drink's appearance but also its flavor, as the ice helps dilute the cocktail to the right levels.
Bramble
INGREDIENTS
2 oz

Gin

.75 oz

Lemon Juice

0.5 oz

Crème de mûre

0.5 oz Simple Syrup
2

Blackberries
INSTRUCTIONS
Step two
Pour the crème de mûre over the crushed ice.
Step three
Garnish with the blackberries and serve.
Contributed by Supercall
Mix It Up!
A Gin Fix is arguably best made with genever, which also happens to be great in the Bramble. It will give the cocktail an earthy depth. Try swapping out the crème de mûre for other fruit liqueurs like framboise (raspberry) liqueur and black currant liqueur. If you are making a Bramble in summer, try
muddling
fresh blackberries into the cocktail before shaking it.
Recommended Gins:
Bombay London Dry
,
Beefeater
,
Gordon's
,
Hendrick's
,
Plymouth
,
The Botanist Gin