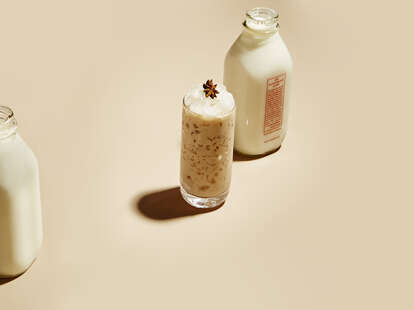 At Ghost Donkey, a tequila and mezcal-focused bar in New York City, Nacho Jimenez and Eben Freeman look beyond New Orleans to Jimenez's native Mexico for their spin on the Milk Punch, swapping in horchata ice cream for the usual milk. "The consistency is pretty similar to a traditional Milk Punch," Jimenez explains, "but the taste is definitively Mexican."
The ice cream—which the pair sources from their fellow expert in Mexican flavors, Fany Gerson of La Newyorkina—provides a powerful spiced-cinnamon flavor up front, while Gerson's cajeta, the Mexican version of dulce de leche made from goat's milk, gives the drink a caramelized sweetness. It all comes together with a traditional base of brandy for a drink that's at once similar to and deliciously different from the classic Milk Punch.
Note: Jimenez specially orders the ice cream for this cocktail from LaNewyorkina, but we also like Tillamook's Cinnamon Horchata ice cream, which can be purchased in grocery stores. The same goes for the cajeta, which Jimenez also sources from LaNewyorkina. Coronado is the most commonly seen brand and can be purchased online.
Salted Caramel Horchata
INGREDIENTS
2 oz

brandy

2 oz

Horchata Ice Cream

.5 oz

Cajeta

Star anise, for garnish
Contributed by Nacho Jimenez and Eben Freeman
Mix It Up!
In lieu of the horchata ice cream, you can substitute 1 oz horchata (homemade or store bought) and 1 oz cream.