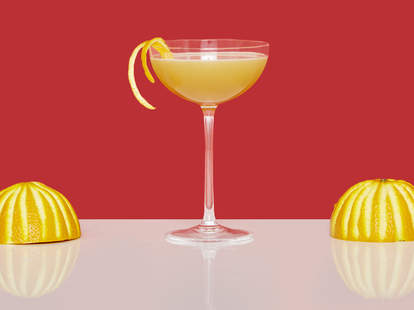 From the name you might think the Bronx is a take on a Manhattan. You'd be wrong. Rather, it's a variation on a Perfect Martini. The cocktail dates back to the very early 1900s when a customer challenged Waldorf Astoria bartender Johnnie Solon to create a brand new cocktail. Solon shook up a mixture of gin, fresh orange juice, and sweet and dry vermouths. When the waiter asked Solon for the name of the drink before delivering the cocktail to the challenging customer, Solon thought back to a recent visit to the Bronx Zoo. Customers had told the bartender strange stories about seeing beasts after having one too many cocktails. Solon replied, "Oh, you can tell him it is a Bronx." The cocktail was an instant hit and became nearly as ubiquitous as the Manhattan and the Martini. Although its popularity has since waned, it's certainly worth shaking up.
When choosing a gin for making the Bronx, it is best to opt for one that is not heavy on the juniper. We also prefer gins that are less brutally herbaceous, and are instead citrusy and light like Plymouth or Gordon's. The bitter, herbal qualities in the cocktail are best when coming from a more brazen sweet vermouth than the gin (we suggest using Antica Formula, which has strong vanilla notes and a robust bitterness). For the measure of dry vermouth, don't use a brand that is too sweet or two flavorful. In the cocktail the dry vermouth is there to bring balance, more citrus notes and to soften the bitter blow of good sweet vermouth. It is also absolutely crucial that you use fresh orange juice, otherwise your Bronx is going to be flat and one dimensional.
INGREDIENTS
2 oz

gin

.5 oz vermouth
.5 oz

vermouth

1 oz

orange juice

orange twist
INSTRUCTIONS
Step one
Add all ingredients to a shaker with ice.
Step two
Shake and strain into a chilled coupe.
Step three
Garnish with an orange twist, if you please.
Contributed by Supercall