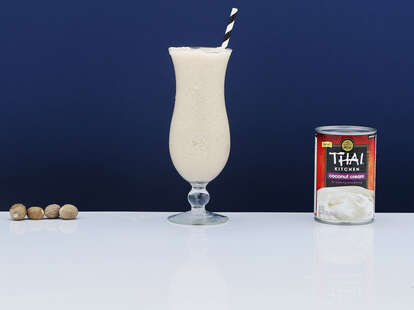 Essentially a chocolate-coffee flavored Piña Colada, the Bushwacker is a sweet beach cocktail made with dark rum, Bacardi, Baileys, crème de cacao and coconut cream. Invented in 1975 by bartender Angie Conigliaro at the Ship's Shore & Sapphire Pub in Sapphire Village in the Virgin Islands, the Bushwacker was allegedly named after an Afghan Hound owned by two jet-setting flight attendants who helped invent the cocktail. After the drink was intercepted and slightly tweaked by bartender Linda Murphy (of the Sandshaker Beach Bar in Pensacola Beach, Florida), the cocktail became a Florida icon. To this day, there is an annual Bushwacker Festival in Pensacola Beach to celebrate the cocktail.
Bushwacker
INGREDIENTS
1 oz

white rum

1 oz

dark rum

1 oz

kahlua

1 oz

dark crème de cacao

1 oz

Coco Lopez

2 oz

Milk

.5 Cup

crushed ice

Nutmeg
INSTRUCTIONS
Step one
Crush ice using a mallet and ice bag.
Step two
Add the crushed ice, both measures of rum, Kahlúa, crème de cacao, Coco Lopez and milk to a blender.
Step three
Blend until frothy and fully emulsified.
Step four
Pour the cocktail into a hurricane glass and garnish with freshly grated nutmeg.
Contributed by