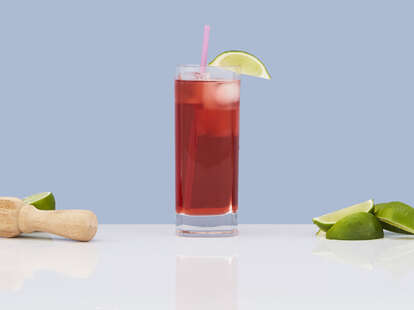 Matthew Kelly / Supercall
Invented by Ocean Spray in 1945, this now classic cocktail was originally just a marketing ploy designed by the company to convince the public of cranberry's alcoholic possibilities, so of course Ocean Spray Cranberry Cocktail was the original mixer of choice. The drink was originally called the Red Devil, but it was renamed after the Great Cranberry Scare of 1959, when the Secretary of Health revealed a portion of the cranberry crop had been tainted by herbicide. The cocktail was rebranded in the 1960s to the Cape Codder (alluding to the popular East Coast vacation destination where many cranberries are grown), likely to get away from negative associations with potentially poisonous berries. Whether or not you trust the marketing schemes of Big Cranberry, Ocean Spray Cranberry Cocktail actually makes for a perfectly serviceable mixer—it sits pretty neutrally between sweet and sour, allowing you to dial up the tart lime juice as you see fit. Still, you should opt for fresh cranberry juice if you have the chance, especially in fall when the berries come into season and are readily available ahead of Thanksgiving (assuming they are, you know, untainted by chemical herbicides). With fresh cranberry juice, you'll find the natural sweetness and tart jammy flavor of the berries heightened by fresh lime juice, all layered on a vodka base. The tall drink is considered the original Vodka-Cran, and the tart tipple even spawned a slew of variations playing off the seaside Cape Cod theme, including the Sea Breeze (vodka, cranberry juice, grapefruit juice), the Bay Breeze (vodka, cranberry juice, pineapple juice), and the Sex on the Beach (vodka, cranberry juice, peach schnapps, Chambord).
Cape Codder
INGREDIENTS
2 oz

vodka

0.5 oz

lime juice

cranberry juice

Lime wedge, for garnish
INSTRUCTIONS
Step one
In a Highball glass, add the vodka and lime juice.
Step two
Add cubed ice and top with cranberry juice.
Step three
Garnish with a lime wedge.
Contributed by Supercall