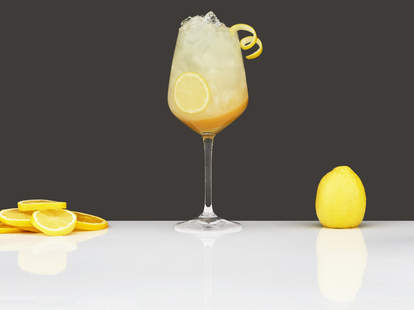 A fizzy twist on the Sherry Cobbler, this delicious cocktail combines citrus, maraschino or orange liqueur, and—you guessed it—Champagne. Like its fortified wine-spiked cousin, the Champagne Cobbler was popular throughout the 1800s, but it has since lost its sheen. We say, it's high time to bring it back. Whip up one of these ridiculously simple drinks, and you'll see how easy it is to go through a whole bottle of bubbly.
INGREDIENTS
1

Lemon Wheel

1

Orange Wheel

.5 oz

maraschino liqueur or cointreau

Champagne

lemon twist
INSTRUCTIONS
Step one
Muddle the lemon and orange slices in the bottom of a wine glass.
Step two
Add liqueur and fill with crushed ice.
Step three
Top with chilled Champagne and garnish with a lemon twist.
Step four
Sip through a julep straw.
Contributed by