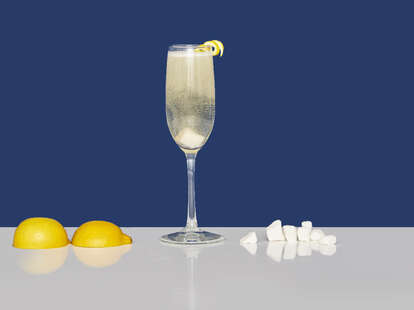 After the original "cocktail" (alcohol, sugar, water, bitters), there was the Champagne Cocktail, which cocktail historian David Wondrich refers to as the "first evolved cocktail." Created sometime in the early to mid 1800s, the cocktail was particularly popular along the West Coast and with entertainers (eventually earning the nickname "chorus girl's milk"). But, as popular and ubiquitous as the Champagne Cocktail was and is, it still had some detractors. David A. Embury—author of The Fine Art of Mixing Drinks (1948)—once said the Champagne Cocktail "is a decidedly inferior drink, and no true Champagne lover would ever commit the sacrilege of polluting a real vintage Champagne by dunking even plain sugar, much less bitters in it." We respectfully disagree with Mr. Embury's overall condemnation of the cocktail, but we do concur with his opinion that a good vintage Champagne should never be used (opt for something non-vintage instead or a dry domestic sparkling wine).
Champagne Cocktail
INGREDIENTS
1

Sugar Cube

3 dashes

Bitters

Champagne

Lemon twist
INSTRUCTIONS
Step one
Add the sugar cube to the bottom of a Champagne flute.
Step two
Dash Angostura bitters on top of the sugar cube.
Step three
Top with Champagne and garnish with a lemon twist.
Contributed by Supercall