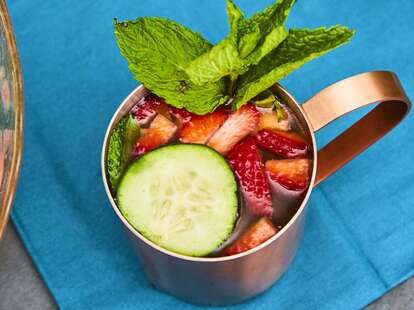 Marisa Chafetz / Supercall
Marisa Chafetz / Supercall
This spritzy, sparkling punch has everything we look for in a refreshing, warm-weather sipper: a little booze, a splash of bright lemon juice, and lots of fresh fruits and herbs. But as a Moscow Mule variation, you might notice it's missing one very important ingredient—ginger beer. According to the drink's creator, the strongly spicy mixer just isn't necessary in this case. "When I look at ginger beer, I see two things: a sharp acidity from the ginger and the effervescence from carbonation," says Chris Caldwell, beverage manager at La Cantera Resort & Spa. "I knew that Champagne mimicked those two components, so that's why I replaced ginger beer with Moet Ice." If you find ginger beer to be overpowering, this easy-drinking "Mule" punch is the perfect thing to whip up for your next garden party or poolside soiree. The recipe serves four to five, so feel free to double (or even triple) it if you're expecting more than a few guests.
Water for People Punch
INGREDIENTS
5 oz

vodka

3 oz

Pimm's

1.5 oz rich simple syrup
3 oz

lemon juice

10

mint leaves

10

Strawberries

cucumber

champagne

Strawberries and mint
INSTRUCTIONS
Step one
Add simple syrup, mint leaves, strawberries and cucumbers to a punch bowl or pitcher, and muddle.
Step two
Add the Absolut Elyx and Pimm's to the bowl with a large block of ice. Stir to combine.
Step three
Add lemon juice, ounce by ounce, tasting after each addition so the acidity is to your liking.
Step four
Top with Moet Ice Imperial.
Step five
Pour into Moscow Mule mugs and garnish with fresh mint and strawberries.
Contributed by Chris Caldwell