Carolina Pork-&-Bacon Meatballs Are a Panthers Super Bowl Party Necessity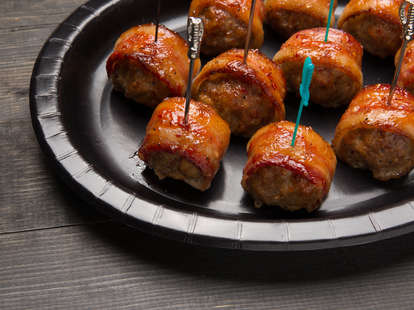 When it comes to Super Bowl snack and apps, putting out a jar of onion dip and some greasy chips is totally acceptable, but there's no sense in settling. This year, put a little work in and serve these epic pork meatballs, instead. They're drenched in a vinegar-spiked 'cue sauce -- an ode to Carolina's famous Eastern-style barbecue -- and then wrapped in thick slabs of bacon.
Be forewarned, they're a total show stealer. I'm talking to you, Coldplay.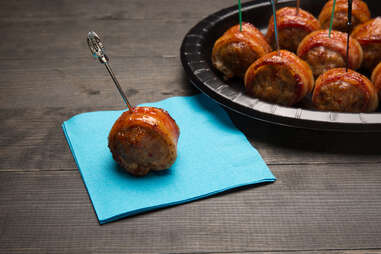 Carolina Pork-&-Bacon Meatballs Recipe
Total Time: 1 hour, 20 minutes
Yield: 24
INGREDIENTS:
2 pounds ground pork shoulder
4 slices white sandwich bread, broken down in a food processor
3 eggs
2 tablespoons liquid smoke
1 tablespoon kosher salt
2 teaspoons freshly ground black pepper
1 teaspoon garlic powder
1 teaspoon smoked paprika
12 slices thick-cut bacon, sliced in half crosswise
1 ½ cups cider vinegar
¾ cup water
½ cup ketchup
¼ cup dark brown sugar
1 tablespoon crushed red pepper flakes
1 ½ tablespoons kosher salt
½ teaspoon freshly ground black pepper
DIRECTIONS:
In a large mixing bowl, combine pork, bread crumbs, eggs, liquid smoke, salt, pepper, garlic powder, and paprika; mix by hand.

 Cover and chill in the refrigerator for at least 30 minutes.
Preheat oven to 375ºF. Line a baking sheet with foil and place a wire rack on top.
With wet hands, roll the meat mixture into 24 golf–size balls. Wrap half a slice of bacon around each meatball and place on the wire rack with the seam side down. Bake for 20 minutes.
Meanwhile, make the sauce. Combine all ingredients in a small saucepan over low heat and stir until sugar dissolves.
Spoon 1 tablespoon of sauce over each meatball. Bake for 10 minutes. Spoon another tablespoon of sauce over each meatball and bake for 10 more minutes.
Remove baking sheet from the oven and let meatballs cool on the rack for 5 minutes. Serve with extra sauce on the side for dipping. Don't forget the toothpicks!

Sign up here for our daily Thrillist email, and get your fix of the best in food/drink/fun.
Perry Santanachote is Thrillist's recipes editor and would like to thank Cam Newton for winning her the Fantasy Football Super Bowl. Follow her at @perrysant.