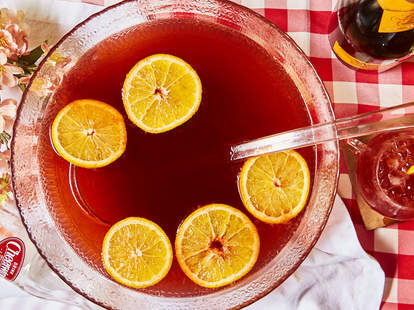 Marisa Chafetz / Supercall
Punch is a Southern staple with a long history—from Martha Washington to the Chatham Artillery, it seems that nearly every household and social group has their own recipe. For beverage director Patrick Kish of Charleston, South Carolina barbecue joint Swig & Swine, using crowd-pleasing Cheerwine for their house recipe was a no-brainer. "I wanted to make a punch-style drink that would be a long-lasting favorite for everybody," Kish says. Along with Cheerwine, Kish adds Sierra Mist, sparkling wine and strawberry moonshine to create an approachable punch that pairs just as well with smoked meats as it does with a lazy summer afternoon.
INGREDIENTS
1 750-mL bottle

Strawberry Moonshine

1 750-mL bottle

Sparkling Wine

1 L

Cheerwine

12 oz

Sierra Mist

2

Orange wedges

Maraschino cherries
INSTRUCTIONS
Step one
Add all ingredients, save for the garnishes, to a punch bowl with a large block of ice.
Step two
Serve in punch cups filled with crushed ice, and garnished with orange wedges and maraschino cherries.
Contributed by Patrick Kish