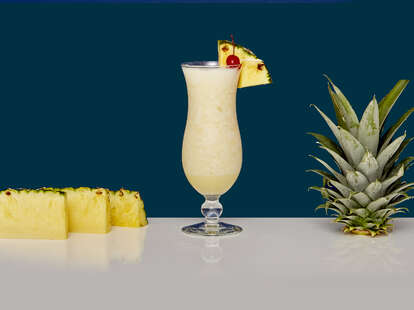 Matthew Kelly / Supercall
This not-so-distant cousin of the Piña Colada keeps the basic structure of Puerto Rico's national drink, while swapping rum for vodka. The combination may seem a little strange if you're a dedicated drinker of the classic, but vodka's neutral flavor actually cuts the sweetness for a pleasantly tropical cocktail that isn't cloying.
It's not clear when the Chi Chi was invented, but it was probably not long after the Piña Colada made its first appearance (a hotly contested date). The recipe is most often credited to tiki's legendary father Ernest Gantt, aka Don the Beachcomber, which makes sense when you think about all the tropical drinks he made popular in the United States. Regardless of who invented the Chi Chi recipe, what we know for sure is that it reached peak popularity during the 1970s and '80s. Made with vodka, coconut cream and pineapple juice, it's a simple cocktail that packs a big punch of tropical flavor. All you need to get it right are fresh ingredients, a working blender and plenty of ice.
The key to a really great Chi Chi is in the pineapple juice. If you use the store bought stuff, it's not going to taste as bright as a cocktail made with fresh-pressed juice. If you don't have a juicer and absolutely have to buy the canned stuff, make sure it's 100 percent juice with no added sugar or preservatives. This will ensure your Chi Chi is as tasty as possible.
Life hack: If you want to make the Chi Chi even more wonderfully tropical, serve it in a hollowed-out pineapple cup. Not only will it give the drink even more pineapple flavor, but it looks impressive as hell.
Chi Chi
INGREDIENTS
2 oz

vodka

1 oz

coconut cream

4 oz

pineapple juice

1 Cup

ice

Pineapple slice, for garnish
INSTRUCTIONS
Step one
Add all ingredients to a blender and blend just until smooth.
Step two
Pour into a Collins glass and garnish with a pineapple slice.
Contributed by Supercall