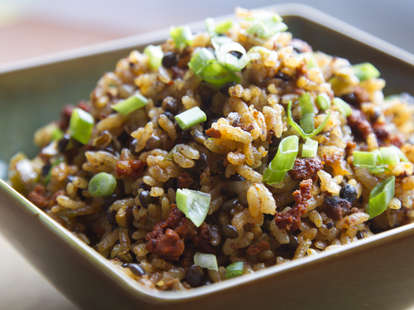 On nights when you're committed to staying in, thinking of a recipe to cook or cooking at all can seem like more effort than it's worth. What if you could prepare a restaurant-level meal with minimal ingredients and steps? We asked eight of Chicago's top chefs to come up with their best five-ingredient recipes that even the novice cook can prepare at home. With chorizo rice, pasta with jalapeños and bacon, heirloom tomato salad, and roasted peaches with pancetta, you may never leave home again.
Chorizo rice with lentils
"On busy nights, I love letting my rice cooker do most of the heavy lifting. This isn't quite a set-it-and-forget-it recipe, but it's easy, approachable and really, really good." - Rick Bayless, executive chef at Frontera Grill, Topolobampo, Xoco, Leña Brava, and Cervecería Cruz Blanca
INGREDIENTS:
1/3 cup lentils, preferably the black beluga or green French lentils
4oz fresh Mexican chorizo sausage, casing removed
1 cup rice
1/2 cup chopped green or knob onions (about 2 onions) OR 1/3 cup chopped regular or garlic chives
Salt
DIRECTIONS:
Place the lentils and 3/4 cup water in a rice cooker and cook for about 20 minutes or until the rice cooker turns to the "keep warm" mode; the lentils should taste about half done. Meanwhile, in a large (10in) skillet set over medium heat, cook the chorizo, breaking up any clumps, until it has begun to brown, about 7 minutes. Stir the rice into the chorizo and cook, stirring nearly constantly, until it has turned from translucent to milky white, about 3 minutes more.
When the lentils are ready, scrape the chorizo and rice mixture into the rice cooker along with the onion (or chives), 1 teaspoon salt and 1 3/4 cups water. Cover the rice cooker, once again turn it to "cook" and let the rice cook until the appliance switches to "keep warm" mode, 15 to 20 minutes.
Taste a grain of rice: it should be very close to done at the core. If not, sprinkle a little water, recover, and cook 5 minutes more. Gently fluff the mixture with a fork, reaching all the way to the edges at the bottom, to release steam and slow the cooking (though of course it can hold up to an hour or so in "keep warm" mode).
Vanilla bean yogurt
"Sweet and refreshing. This yogurt is great when served along with barbecue sauce for a sweet and tangy combination! Also a great recipe to use with a spicy sausage if you're grilling for Labor Day. We use this recipe with Szechuan goat sausage at the restaurants, but chorizo would also be tasty!" - Stephanie Izard, executive chef at Girl & the Goat, Duck Duck Goat, and Little Goat
INGREDIENTS:
1 cup mint
1 cup basil
2 1/2 cups cream
2 vanilla beans
1 quart yogurt
1 teaspoon salt
DIRECTIONS:
Puree the herbs, vanilla and cream.
Whisk into the yogurt.
Season with salt. (I'm not counting salt as an ingredient since you put salt in everything.)
Mighty vine tomato salad with basil kimchi pesto
"When late summer comes around, I think of two things: Watermelon and Tomatoes. This refreshing dish with fresh ingredients reminds me of summer." - Bill Kim, chef at Urbanbelly, bellyQ, and Belly Shack
INGREDIENTS:
3 medium MightyVine tomatoes
2 cups basil
½ cup salted dry roasted peanuts
½ cup Kimchi
3 T Sesame Oil
DIRECTIONS:
Quarter tomatoes
To make pesto: place remaining ingredients in a food processor and pulse until coarsely chopped
Place tomatoes on a plate and drizzle 3 T of pesto
Optional garnish: peanuts, basil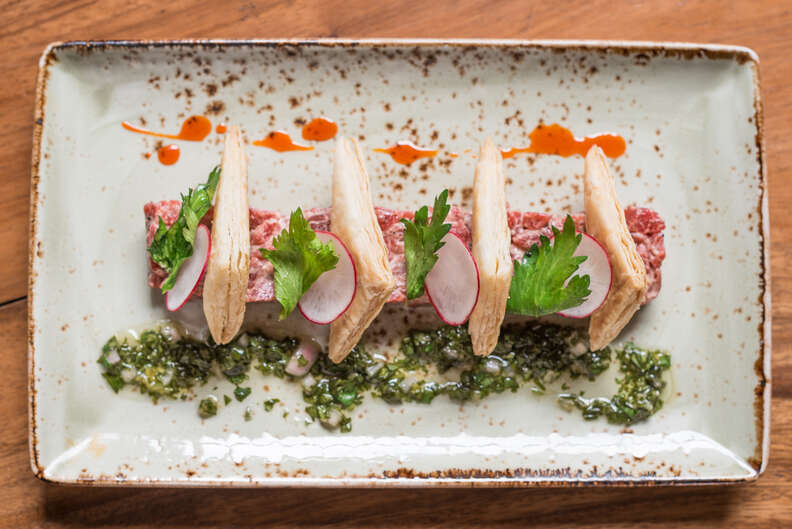 Roasted poblano chimichurri
"I use this recipe on our bruschetta flatbread, empanadas, and with the steak tartare at MAD Social. I love chimichurris because you can play with the recipe and add or subtract ingredients as needed. It can be used in so many applications, fish, meats, veggies -- literally anything! It's always bursting with flavors and it adds a nice touch to any dish." - Mariela Bolaños, executive chef at MAD Social
INGREDIENTS:
4 roasted poblano peppers, skinned, seeded, and diced
2 tablespoons of raw garlic paste
3 tablespoons minced shallot
½ cup sherry vinegar
¼ cup extra virgin olive oil
DIRECTIONS:
Mix all ingredients together in a bowl.
Season with salt and pepper to taste.
To maximize from this base you could add multiple herbs, citrus juice, chili flakes, lime/lemon zests, and more.
Pasta with jalapeños and bacon
"Ben and I are huge pasta fanatics, so we are constantly playing around with our NINA pasta machine at Giant to make different types of noodles. At home, we use dried pasta to make life easier. This recipe is inspired by one of our favorite dishes at Giant, a spicy and rich combination of jalapeños and bacon because everything is better with a little bacon, right?" - Jason Vincent and Ben Lustbader, chefs/partners at Giant
INGREDIENTS:
16oz thick noodles (dried bucatini would work)
2oz bacon, uncured and fruit wood smoked (anything but hickory), large dice
1oz pickled jalapeños, chopped fine (save the juice)
6 cloves garlic, sliced thin
4oz butter, room temperature
DIRECTIONS:
Bring a large pot of water to a rapid boil
In a separate pan start to render the bacon
Once it's starting to fry, add the garlic and sweat (don't brown)
Add the pickled jalapeño and turn the heat to low
Cook the pasta until al dente and add to the pan (save a cup of pasta water)
Turn the heat back up and add the pasta water a little at a time, reducing it completely after each addition
Turn off the heat and mount in the butter
Season with salt, jalapeño juice, and pepper
Heirloom tomato salad, with farm arugula, fresh pulled mozzarella, 20 year balsamic vinegar, extra virgin olive oil
"While this dish is relatively a standard combination in summer, when the tomatoes and arugula are at the peak of their seasonality, it's hard to beat." - Jared Wentworth, chef/partner Dusek's, Longman & Eagle, The Promontory, and Saint Lou's Assembly
INGREDIENTS:
2 large heirloom tomatoes sliced
4 cups farm fresh arugula
2 balls homemade mozzarella (fresh from curd)
2oz aged balsamic vinegar
4oz very fruity extra virgin olive oil
DIRECTIONS:
Slice heirloom tomatoes and distribute evenly among four plates
If pulling your own mozzarella, heat up a medium sized pot and salt it to taste. When water reaches a hard simmer, pour over cheese curds and when comfortable pull curds into balls and chill. When cold slice and distribute evenly between plates.
Toss arugula with half the vinegar and oil and mound over the tomatoes and cheese.
To finish, drizzle salad with remaining oil and vinegar. Finish with salt and pepper to taste.
Mac & cheese
"I am a chef who likes a challenge. I wanted to make a mac & cheese that is creamy and less 'floury,' that is even better than Kraft's and can be made over the stove, à la minute." - Mindy Segal, chef/owner at Mindy's Hot Chocolate
INGREDIENTS:
2 cups heavy cream
1lb American cheese
½ cup Gruyere
4 cups ridged elbow macaroni
Salt & pepper to taste
DIRECTIONS:
Heat cream in a heavy duty saucepan
Add melted cheese and stir continuously
Season with salt & pepper
Add cooked elbow macaroni
Place in a baking dish
Put in broiler for about two minutes or until the top caramelizes
Peaches and pancetta
"The bulk of the ingredients -- being, peaches, melrose pepper, mint & ghost pepper are all sourced from the Green City Market! The dish itself, is lovely -- the sweetness of the peaches is beautifully balanced by the saltiness of the pancetta and given depth from the pepper elements!" - Art Smith, executive chef and co-owner, Blue Door Kitchen & Garden, and pitmaster at Chicago q
INGREDIENTS:
15 peaches, pitted and skin-on
2 melrose peppers, thinly sliced
1/8 ghost chili pepper, seeds removed
4 leafs mint, torn
2 tablespoons pancetta, crispy
DIRECTIONS:
Cut peaches into eighths, discard the seed. In a sauce pot add about 5 of the cut peaches and ghost pepper together, add 2 tablespoons of water and place over medium high heat until the peaches break down.
Place the cooked peaches in a blender and puree until smooth, add salt to taste. Set aside to cool.
Take the remaining peaches, toss with salt, and drizzle with a bit of olive oil, roast peaches for 5-8 minutes until slightly hot. Carefully remove from oven.
Place peaches into the mixing bowl, add a pinch of salt, freshly ground pepper, sliced Melrose pepper, and mint toss. Place desired amount of sauce at the base of the serving dish, and add Peaches over the sauce.
Finish with crispy pancetta, and a bit more of the peach & Ghost pepper puree. Peaches could be left raw, using the same steps above. Season to your palate.
Sign up here for our daily Chicago email and be the first to get all the food/drink/fun in town.
Amanda Topper is a contributing writer for Thrillist Chicago, foodservice industry analyst, and food blogger for TheGhostGuest.com. Donuts are her favorite food group. Follow her at @AmandaTopper.