How to Make 6 Jell-O Shots With Local Chicago Booze
You'd be hard-pressed to find a more efficient and entertaining alcohol delivery vehicle than the Jell-O shot. It's not just for college students to hide the flavor of cheap booze or for bars to hide the fact that theirs barely contain any liquor -- the proper way to make jiggly cocktails you can serve by the trayful is to do it in your kitchen. And if you're a true-blue Chicagoan, you pour some local spirits into the mix. (Like Malört? Yes, of course, read on.) We asked six local distilleries for their favorite Jell-O shot recipes -- each making about 30 shots -- and here's what they shared: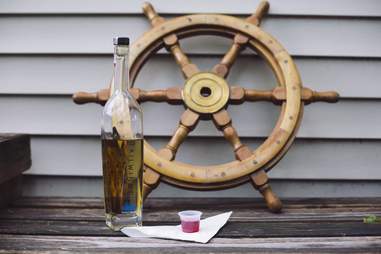 Jim Vondruska/Thrillist
Tailwinds Old-Fashioned Jell-O Shots
Total Time: 2 hours, 15 minutes
Yield: 32 1-ounce shots
INGREDIENTS:
1 3-ounce box Cherry Jell-O
1 3-ounce box Orange Jell-O
2 cups boiling water
1 cup Tailwinds Rested Agave
6 dashes Angostura bitters
1 cup cold water
DIRECTIONS:
Combine Jell-O boxes in a bowl.
Boil water and add to mixture.
Stir in Rested Agave and bitters.
Add cold water.
Pour into shot cups.
Let sit for 2 hours in fridge.
Jim Vondruska/Thrillist
KOVAL Magnificent Mule Jell-O Shots
Total Time: 3 hours, 15 minunes
Yield: 3 cups, about 20 servings
INGREDIENTS:
1/2 cup KOVAL bourbon
1 cup mint-infused lemonade
1/4 cup sugar
1 1/2 cups ginger beer -- the more carbonated the better
Red food dye
6 gelatin sheets or about 1 1/2 envelopes unflavored gelatin powder
DIRECTIONS:
Begin by infusing lemonade with fresh mint for 2 hours, strain out mint.
Boil together mint-infused lemonade and sugar.
Add red food dye.
Sprinkle gelatin into a small amount of ice water to bloom it.
Stir gelatin into lemonade mixture until dissolved.
Add KOVAL bourbon.
Refrigerate for 15 minutes.
Stir in cold ginger beer (the colder the better).
Allow to set for at least 30 minutes in a pan in the refrigerator (will probably take longer).
Remove from refrigerator and cut into the shape of Chicago stars and garnish with a mint leaf.
Jim Vondruska/Thrillist
Ruby Red Malört Shots
Total Time: 2 hours, 15 min
Yield: About 20 shots
INGREDIENTS:
1 1/4 cups Jeppson's Malört
1 1/2 cups ruby red grapefruit juice
1/2 cup sugar
2 envelopes Knox gelatin
DIRECTIONS:
Heat the grapefruit juice on medium heat.
Add sugar, stir until dissolved.
Remove from heat, sprinkle in gelatin.
Stir the mixture until the gelatin is dissolved.
Stir in Malört.
Refrigerate.
Question your life decisions.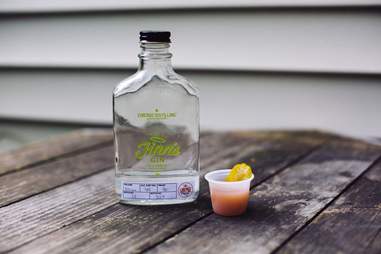 Jim Vondruska/Thrillist
Chicago Distilling "Finn and Juice" Jell-O Shots
Total Time: 8 hours, 20 minutes
Yield: About 13 servings
INGREDIENTS:
3/4 cup Chicago Distilling Co. Finn's gin
3/4 cup triple sec or orange liqueur
1/4 cup boiling water
1 orange
12 dashes Angostura bitters
2 packets unflavored gelatin
DIRECTIONS:
Lightly grease silicone molds (1-by-1-inch silicone ice cube trays or silicone chocolate molds work well) with cooking spray.
Combine gin, triple sec, Angostura bitters, and 4 tablespoons fresh-squeezed juice from orange (reserving orange rind) and set aside.
Sprinkle gelatin over boiling water in large, heat-proof glass measuring cup and allow 1 minute for gelatin to bloom.
Add gin mixture to gelatin mixture, whisk together, pour into molds and let refrigerate overnight.
When ready to serve, invert gelatin molds to release. Garnish with fresh orange zest and serve immediately.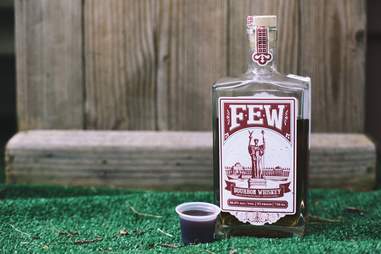 Jim Vondruska/Thrillist
FEW Mint Julep Jell-O Shots
Total Time: 8 hours, 40 minutes
Yield: About 40 shots
INGREDIENTS:
1 1/2 cups fresh mint leaves
1 cup sugar
3 1/2 cups water
3 tablespoons (3 envelopes) unflavored gelatin powder
1/2 cup FEW bourbon
2 cups blackberries
DIRECTIONS:
Boil the mint leaves, sugar, and 3 cups of the water in a saucepan and simmer for 5 minutes, stirring occasionally. Strain out mint leaves.  
Sprinkle the gelatin evenly over 1/2 cup of the water and allow the gelatin to absorb the water.
Add the strained minty water/sugar until the gelatin is fully dissolved; add bourbon.
Separately, blend the blackberries and 2 cups of the gelatin/water/mint mixture until liquefied.  
If you wish to remove the seeds, strain through a mesh. Mix the fruit and bourbon together.  
Chill to the consistency of a gel, and then mix it all together to even the fruit throughout.
Refrigerate overnight.
Jim Vondruska/Thrillist
CH Distillery Key Lime & Tonic Jell-O Shots
Total Time: 9 hours
Yield: 30 servings
INGREDIENTS:
1 cup CH Key gin
5 3/4 tsp. unflavored gelatin
2 tbsp. sugar
3 cups CH house-made tonic
4 cups water
1/2 cup dried lemongrass
1/4 cup cinchona bark
1 1/2 tsp. allspice
1 tsp. citric acid
1/4 tsp. salt
1/2 tsp. dried orange peel
1/2 tsp. dried lemon peel
1/2 tsp. dried lime peel
1/2 cup agave nectar
Juice and zest of 1 lemon
Juice and zest of 1 orange
Juice and zest of 1 lime
DIRECTIONS:
Combine tonic ingredients and boil, reduce to simmer for 30 minutes.
Strain and put in ice bath. Stir in agave.
Heat tonic over medium heat, stir in sugar until dissolved, remove from heat.
Sprinkle in gelatin, stir to dissolve it.
Stir in Key gin, add to cups, and chill overnight.