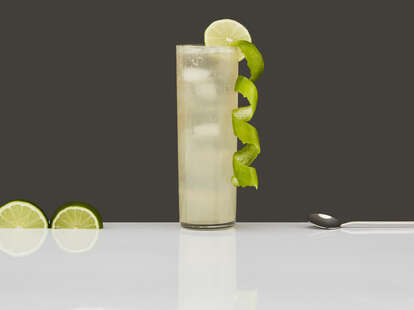 Long before the Moscow Mule debuted in America, Peruvians were drinking Chilcanos. In the late 1800s, Italian immigrants arrived in Peru, bringing with them traditional cocktails like the Buongiorno, made with grappa, lime juice and ginger beer. Locals decided to add their own flair to the drink, substituting grappa for pisco. They named it Chilcano after a fish head soup that was known for its hangover-curing properties. You'll find that the cocktail similarly eases the pains that come after a late night out.
Chilcano
INGREDIENTS
2 oz

pisco

.25 oz

fresh lime juice

Lime twist, for garnish
INSTRUCTIONS
Step one
Add all ingredients save for the garnish to a Collins glass and fill with ice.
Step two
Stir until chilled.
Step three
Garnish with a lime twist.
Contributed by Supercall