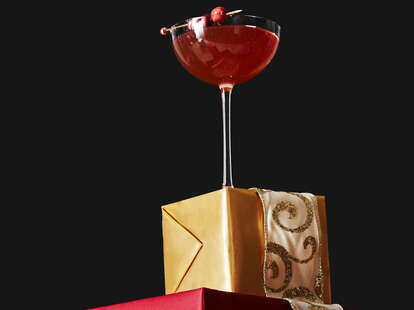 Matthew Kelly / Supercall
This is the perfect Christmastime Cosmopolitan. Created by Nico de Soto of New York's annual Christmas-themed pop-up bar, Miracle, it's a holiday twist on the classic made with St-Germain in place of triple sec and a homemade spiced cranberry sauce instead of the usual juice, which gives the drink a more viscous texture. Fig bitters top it all off with extra seasonal cheer. Bright, tart and amazingly refreshing, it's a gorgeous drink for a holiday party—or, simply, a gulp of relief after a long day of tree trimming and Xmas shopping.
Christmapolitan
INGREDIENTS
1.5 oz

Vodka

1 oz

St-Germain

1 oz

Spiced cranberry sauce

.5 oz

Lime juice

2 dashes

Fig bitters
INSTRUCTIONS
Step one
Add all ingredients to a shaker with ice. Shake until cold and well mixed.
Step three
If desired, tie a curly red ribbon around the base of the glass for a festive touch.
Contributed by Nico de Soto