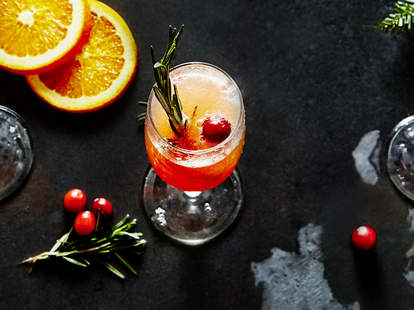 Matthew Kelly / Supercall
Forget opening presents Christmas morning. Instead, open a bottle of Champagne for a round of Mimosas. Perfect for a crisp winter morning, this variation on the bubbly brunch staple will fill you up with holiday cheer. Made with orange blossom honey, Angostura bitters, fresh squeezed orange juice and muddled cranberries, the cocktail is refreshingly tart and vivaciously citrusy. Make sure to stock up on Champagne—one round definitely won't be enough.
INGREDIENTS
1 barspoon

Orange Blossom Honey

3 dashes

Angostura

6

Fresh Cranberries

0.5 oz

Cointreau

1 oz

Fresh Orange Juice

Champagne

Rosemary sprig, for garnish

1

Cranberry, for garnish
INSTRUCTIONS
Step one
In a mixing glass, add the cranberries, honey and Angostura bitters. Muddle the ingredients together.
Step two
Add the orange juice to the mixing glass with a couple large cubes of ice, and stir.
Step three
Using a Julep strainer, strain the mixture into a Champagne glass. Top with Champagne (or sparkling wine) and stir gently to incorporate.
Step four
Garnish with a sprig of fresh rosemary and a single cranberry.
Contributed by Supercall