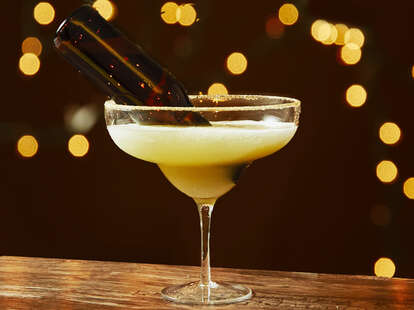 A splash of crisp, sweet, spritzy hard cider can transform almost any cocktail into a fall classic—even the ultimate summertime sipper, the Frozen Margarita. This autumnally influenced cocktail features DIY cinnamon-infused tequila—Fireball's south-of-the-border cousin—which mixes seamlessly with semi-sweet cider. Throw in a cinnamon-sugar rim, and you have the cocktail equivalent of jumping into a pile of leaves.
Cinnamon Ciderdog
INGREDIENTS
2 oz

cinnamon-infused tequila

.75 oz

lemon juice

.5 oz

Cointreau

.5 oz simple syrup
.5 Cup

crushed ice

1 bottle

hard cider

cinnamon sugar
INSTRUCTIONS
Step one
Rim a large Margarita goblet with simple syrup and cinnamon sugar.
Step two
Combine all other ingredients except for the cider in a blender, blend until smooth and pour into the glass. If your glass is the right size, you should still have room for the beer.
Step three
Holding your thumb over the opening of the bottle of cider, quickly overturn the bottle into the glass, removing your thumb just before submerging it into the glass.
Step four
Drink with a straw, ideally with a friend.
Contributed by Supercall